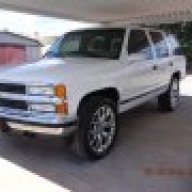 Joined

Mar 9, 2014
Posts

249
Reaction score

9
Location
I did the evaporator on my 1997 Hoe this morning.

Mine hardly had any crud, just one little piece of junk stuck to the evaporator, and a little bit of dust in there, but not as bad as I thought, and nowhere near as bad as some of the other poster's "horror pictures".

I first picked the little bit of crud, then blew with compressed air, seen some dust, then squirted the Evaporator down thoroughly with Zep Citrus Orange Cleaner-Degreaser at full strength, let sit 10 minutes, squirted another good dose of the Zep, let sit again, then hosed down the evaporator very well, about 4-5 times.

The Blower Fan, and its Rubber Shroud I hit with compressed air, this was dusty, cleaned the rubber gasketing all around, and treated with a non-silicone rubber protectant-sealant (Wolfgang)

Wiped all out thoroughly to clean and dry with paper shop towels, got all as clean as I could and re-assembled.

I found removing my Glove Box Lid made things a bit easier with removal, and reinstallation of the Rubber Shroud. A plastic tether on the left side of Glove Box simply un-clips, and a pin on the right side gets slight depressed, the Lid then will swing down and come off the hinges, simple.

I've noticed no difference in velocity, but would assume I didn't make things worse, but better. But as I said, mine was basically very clean.

But, after a test drive, my AC would only register at about 45-46 degrees at the vents.
Temps at the time were about 77-78 degrees ambient outside this morning, so that may be why not as cold as seeing 42 at the vents typically when it's mid 90's here?

Maybe it needs to also fully dry out?
Last edited: