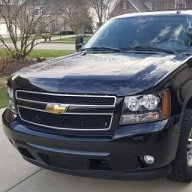 Joined

Aug 13, 2018
Posts

601
Reaction score

634
Location
Hey all, so I've been driving my 2500 now for 4 years. I have put the better part of 80k on it, and probably spent about the same..
Anyhow, it is starting to disintegrate and is generally a pile of shit at this point. The thing is, it's never left me stranded, and provided i dont leave the GPS on for a week, it always starts right up.
I gotta do body mount bushings but outside of that, I'm right at 199.5k, have no dummy lights on, and while the ride is generally atrocious, and I dont really keep the interior nice or clean, it does what I want it to do.
I'm thinking about saving up for next year, I'll have my last credit card paid off, and my honda will be paid in full by around June. I've been watching ads for various full size vehicles...and I really just want to stick with an SUV. I've been seeing 09-14 escalades for 12-16k in reasonable condition. WHY?! That seems nuts, but these decent looking vehicles, at around 150k miles, are really reasonably priced. So, I guess just a general question to the peanut gallery - if you had 15-18k to buy a GM Full Size SUV, what would you be looking for as the best bang for the buck and reliable vehicle?
edit; I dont NEED the 3/4 ton features. My buddy got me all amped up on the 2500 and i ate it up. I pull 5000-6000# max from time to time, but maybe a couple times a year. I WOULD like to stick with the long body though....
Last edited: