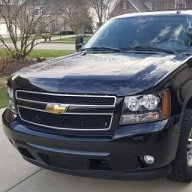 Joined

Aug 13, 2018
Posts

631
Reaction score

692
Location
Per this request:
Good luck Derick. For various reasons, lot of folks come back to GM after a stint with the RAM. We had a new 1500 recently with all the bells and whistles and it was fast but rode like a dump truck and did not find the seats comfortable to my liking.

Please give us a review after a few months of ownership. Take care and Merry Christmas!
I wanted to stop in and say whats up to all my fine Tahoe folks. swath had requested a bit of a review, so here it is.
Everything is as it was in my post a few months ago. lol.
In comparing my 2019 RAM 2500, to my former 2007 Burb 2500, I find the following:
Gas mileage: near equally sucks, few points for the RAM
Ride: Both ride like lumber wagons...
Weight: both weigh 6200-6500#
Towing capacity: Props to the RAM, 17k# versus 6800# (rated)
Features: Goes to the RAM, 8" touchscreen infotainment with android auto, but my burb did have the pioneer indash DVD...soo hmm..
Anyhow this is all in fun. You can't compare the two, because of the gigantic gap in age and mileage. I had an old beater burb, now I have a much newer truck. I'm not a truck guy though, so this kinda goes against my image. I put in the decked drawer system, and I love that...but in turn I hate that I have no secured storage for things like my tool boxes. I think I may get a cap in the future...and just lean into the whole old man thing....but for now, it's a beast of a ride and tows so super confident. It's fun to keep it clean and waxed and stuff like I would about a car I care about. Its a PITA to wash though being so friggin tall though. I wish they still made the burb 2500 though...that would have been the best option overall.