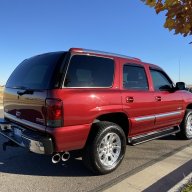 Joined

Sep 26, 2018
Posts

7,260
Reaction score

14,372
Location
Lol dude whatever. I've been nothing but polite to them. They have no reason to purge me from the system.
How dare you ask them any questions regarding their "work", or expect any ETA, details, or for a loaner? you really screwed yourself there.
They clearly knew you were gonna give them a bad survey, as soon as the truck was dropped off by the tow truck. They had Sir Aleister, their full-time mystic do a cursory reading from the gum wrappers in your console, and knew you'd give them a bad survey.
It was pre ordained. Next time, just have someone else drop the truck off. Don't call, certainly don't show up. Just wait patiently. You'll be just fine, and it will be all fixed up.
Now, it may take a few months, after the local tweakers break out a window from the vehicle at the end of the lot, and camp in there a while. During the police report, the PD will inquire who the owner of the vehicle is after the "cooking fire" consumes the vehicle, and they'll look up the service ticket, and figure out it's yours. Just part of the process bro.. just have to trust the process.