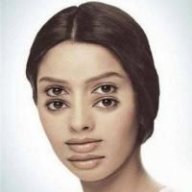 Joined

Apr 23, 2016
Posts

20,083
Reaction score

42,210
Location
I'll begin this saga by explaining the title, which also reveals a little of who I am and how I came to be here. Feel free to skip the novel to get to the fun stuff as I'm mostly writing this as a memoir:
In December of 2002, I bought an '02 S10 Xtreme with less than 9,000 miles on it. It was loaded with every option available, plus 20% tint and a sprayed-in bed liner. A friend of a coworker bought it new, had it tinted and bed-lined, then lost his job about 6 months later and it was repo'ed. I found it about a week later at a dealership I had randomly called to see what they had in stock and ended up getting it at a great price considering it was nearly new. It was befitting of a guy such as myself at 20 years old. Over the following 14 years, it went through an innumerable amount of changes and mods including all the usual bolt-ons, various audio setups, a blown LSD at 36,000 miles from hard driving with a supercharger, a blown motor at 43,000 miles from fueling issues with that supercharger, upgraded brakes, suspension, various wheel changes, a small engine fire, a few dash replacements, fuel tank relocation with custom filler behind the tail light... I'll stop there. If you're interested, you can check out the build thread on S10forum:
My Punching Bag
Fast forward to March of 2016: I had been dating this incredible girl, Jennifer, for well over a year and nothing with us had ever been less than awesome since day one. Things moved along at their own pace, although it was a relatively fast pace. Jenn had two girls so we would always have to take her SUV if we all ever went anywhere together. As a single guy, I didn't need anything more than my "Camaro with a bed" since I drove a company vehicle every day. The S10 was an after-hours/weekend toy that could still "do work" by pulling a trailer the rare occasions it was needed. I had outgrown the S10 years ago, but since it was long paid-for and had over $50,000 and countless hours of myself in it, there was no reason to get rid of it. Yet, I still really wanted (and now NEEDED) a "big boy" truck. It was time to grow up.
I found myself browsing car lots and craigslist ads for crewcab GMT800s since I liked them and they were in my price range. I found a craigslist ad for a gorgeous '05 Sierra at a local lot and began pondering how I could acquire it. I decided that unless a chunk of money fell into my lap, I would never be able to have anything else as long as I had the S10. I never had time to play with it and certainly no time or ability to take it off the road to perform the LQ9 swap I had meticulously planned out, prepared and collected parts for. It had become more of a burden than a fun project and since I now had a family, it was just plain impractical. The S10 was posted on craigslist in cities other than my own in hopes that I would never see it again.
That Sierra that initiated all of this was posted for sale a few hours before I saw the ad that evening. I couldn't make it to the car lot until the next day, but it had sold earlier that day- less than 24 hours after it was posted. Over the following month, I shopped around while going through the heartache of selling my S10. During that time, a friend put a bug in my ear about the advantages of the SUV over the truck. The advantages were very relative to my needs, so I switched up my shopping game. Since selling the S10, I had about $10,000 to play with. I could either buy a super clean GMT800 Tahoe or Yukon outright and have money left over for the required starting mods (any necessary maintenance and/or repairs, lowering, wheels, audio, etc.). Or, I could put a sizable down payment on a clean GMT900 and have a low note, but would have to save up for the mods. I decided that since I sold my $50,000 vehicle, I should have a $50,000 vehicle. I've worked hard and wanted to have something to show for it.
Around the end of April, I ran across another craigslist ad for a super clean '07 Yukon and it was at that same lot that had the Sierra, so I went to look at it. The lot was very small, but had very nice trucks and SUVs. It's a small family-owned place that's been around for a long time. They deal with only the prime pickings from auctions and sell at very fair prices with no haggling BS. They have room to haggle, and they do, but it's not the belittling shit you deal with at the bigger dealerships. The Yukon had everything I was wanting except that it didn't have a sunroof. When I mentioned this to the owner, he told me to follow him inside to look at pics of an '08 Tahoe LTZ he had.
I browsed through the pics on his computer and was in awe. The Tahoe was just plain beautiful. It was a strong "9" on the "immaculate scale" had everything including the sunroof. The only thing it was lacking was the touchscreen head unit. I told him I can change out a head unit way more easily than adding a sunroof and asked when and where I could see it. It turns out it was his wife's ride and was a one-owner before her. He brought it to the lot that Saturday for me to check it out.
Here are some pics taken on that Saturday, April 30th morning: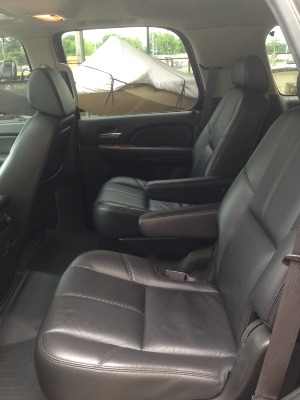 I had looked at plenty of other Tahoes and Yukons all over the state and even in Mississippi. I figured I'd be spending around $15,000-$16,000 before taxes to get what I wanted. I had my choices narrowed down to four others at other lots that I was going to look at that day after I left this one. After seeing this one and hearing the price of $15,900, I knew I wasn't even going to bother looking at the others. The pics I saw of them online showed various minor flaws from cracked and torn console lids, peeling chrome handles and peeling steering wheel inserts to dents and scratches and hazed headlights. This Tahoe had no dents and very minor paint imperfections. The interior was a solid 9/10 with none of the usual wear on the frequently touched pieces. They had probably been replaced, and probably by the lot's owner since he was making it his wife's ride. Plus, it had a nearly new full set of Weathertech floor liners- a $300 bonus.
Our "haggling" was basically me asking if he could make his list price the total price with taxes and all included, to which he declined, as I mostly expected. We went inside so he could punch on a calculator as we talked for about five more minutes. I told him my absolute budget limit was $17,000 for everything- taxes, fees, etc. and if that wasn't possible then I wouldn't take up any more of his time and I'd tuck in my tail and go look at the others on my list. After a few more calculator punches and a few seconds of quiet thinking, he said, "We can do 17 out-the-door" and extended his hand for a shake. All said and done, I got the Tahoe itself for $15,250- cheaper than what I'm sure any of the others could've been had for, yet it was a way better buy as it needed zero reconditioning. I was very happy with the purchase!
WAKE UP! IT'S TIME FOR THE FUN STUFF!
I finally had my big boy ride and could shamelessly mingle with the other adults with their stock SUVs that are essentially invisible to any car people. Apparently, they're invisible to the police as well, which is a bonus. Well, I'm still a car guy and I don't like having the same as what everyone else has. So, mods were gonna happen. Just because I had to grow up and get an adult car doesn't mean it has to be generic. I'll list the mods chronologically as best as I can recall. If the following looks familiar to you- congrats for having good memory. They're copied and pasted from my other posts here:
First mod was a catch can. I bought this years ago for the LQ9 slated to go in the S10. Since it's such a necessary, yet simple mod, I threw it on just days after bringing the Tahoe home, if not the very next day:
I had been keeping my eyes open for a used Airaid MIT and jumped on one when a member here returned his truck to stock. I saved about $50 off a new one so I was satisfied. I already had an AEM Dry Flow filter in place that I scored for $15. I read a guy's negative Amazon review of the filter with him saying his gas mileage dropped considerably after installing it and he was offering it to another Amazon customer that had asked about it a few months prior. That guy never replied so I told him I'd take him up on his offer. I didn't have the Tahoe long enough to determine if switching the filter had any good or bad effects on the MPG, but my numbers seem to be on-par with most of the others so I'm leaving it in:
Influenced by this forum, I decided to clean up the rear since it was a quick and simple mod. I removed the faded "FlexFuel" badge and the gold cover from the Bowtie. I believe I did this right after I installed the smoked license plate cover. I even trimmed the plate to fit inside the edges of the cover for that little extra cleanliness. It's secured with stainless pan head hex screws. The cover has just the right amount of tint to it to blend well with the Tahoe's color and it's not "bubbled" out like the cheesy 90s plate covers:
Before: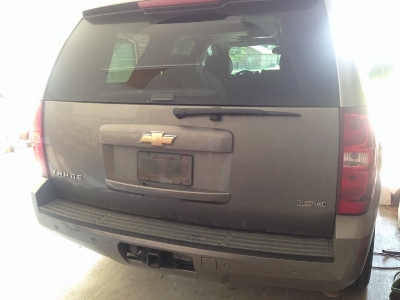 After: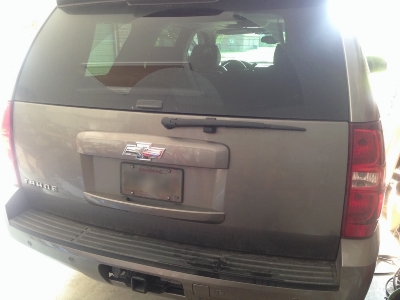 Again, from this forum's influence, I wanted to do something about the ugly exhaust exit. I know of the SLP Resonator Delete Kit, but couldn't justify spending $100+ on a piece of pipe and exhaust tips when I had that laying around. Plus, I like the swept-back angle of these tips better than the SLP straight tips and they're a throwback to what I did on my S10.
Went from this:
...to this in about two hours: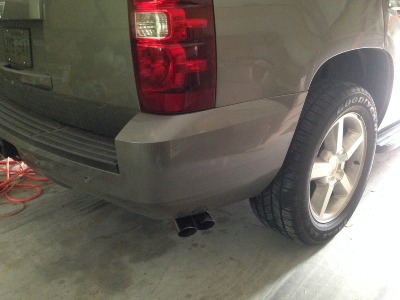 It's a passenger side exhaust tip from a Pontiac G8 GT. I found a driver/passenger side set on Craigslist for $20 about two years ago and finally put one on my S10 not long before I sold it. This was necessary cuz the relocated battery was being cooked by the turned-down exhaust:
Fast forward to a few months ago: The same guy had another set of the tips on CL, so I bought those as well, again, for the passenger side tip. Not long after that I saw an ad for some leftover 3" mandrel-bent exhaust tubing from a Flowmaster kit. It's twin pipes with about 18" straight, then an over-the-axle arch, then another straight about 18". I couldn't pass up having all the mandrel bends I would ever need for small exhaust projects such as this for $20.
I had a short day at work today and wanted to knock out this little project. I started jacking up the rear around 3:20 and was headed inside for a shower around 5:20. The G8 tip had a 2.25" inlet, so I started by squashing a piece of the 3" tube into an oval 2.25" high: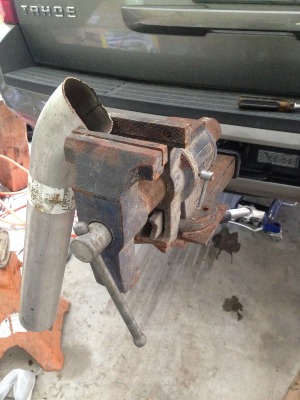 Then I cut off the back of the tip to match the tube's opening size:
I don't see this as being a restriction:
After some careful mock-up, I was ready to pass the "Point of No Return" and I cut off the resonator just downstream of the hanger:
After more mock-up, minor trimming, etc., I welded the tube to the tip:
... and the whole thing to the factory tubing:
No pics, but I wire-brushed, cold-galvanized, and painted all the welds and new piping with semi-gloss black.
Pics with Tahoe back on the ground. My phone was having difficulties focusing because of the sunlight coming in through the westward door: