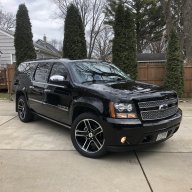 Joined

Feb 5, 2020
Posts

6,928
Reaction score

15,697
Location
Picked up this little Saturn SL2 for my daughter for $2800.00 today Has 160,000 on it and had a list of work done to it.
Details from the add:
2000 Saturn four-door twin cam 16 valve. New ignition module, coils, plug wires, spark plugs, water pump, coolant, valve cover gasket, serpentine belt, front brakes, rotors, rear brakes, master cylinder, all brake lines, wiper blades, oil change, transmission filter,4 tires.
I confirmed this work so I think I got a fair deal.
There are a few small issues I need to deal with:
Annoying:
I need to have a key punched out new as the current keys are worn out and don't work properly.
And more annoying:
I found out after I purchase that the gauge reads empty when the tank is full. it was near empty when I bought it and the gauge would move between 1/4 and empty and the light would come on and off. I filled it on the way home to find the gauge reads empty when full. I attempted the
test with the test light
and with good ground I get a gauge sweep to full when I probe the purple lead at the connector in the trunk. When running I get 12 volts at both the purple and grey leads. I only get 12 volts constant at the purple with the key on and not running. I had a P0463 code that comes back right away after I clear it.
Can anyone help me sort this out or point me in the right direction.