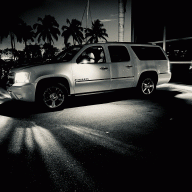 Joined

Apr 16, 2014
Posts

10,009
Reaction score

16,517
Aww heck might as well post these 2 girls as well.
My wife's cousins dogs.
Stella in the cone of shame.
She's an old witch.
15 I think?
Deaf, sort of blind and licks her vj and ah all the time and so loud.
So she got coned one night because of it.
Can't let her sleep in the same room as you or she will sit under the bed and go to town down under and grunt all night long.
The other one… well she's a mash up with a crooked nose , super skiddish but loveable.
The older sister of Stella named Sushi moved on a few years ago. She was a sweetheart.
Funny little doggies, but hard not to love them.
Last edited: