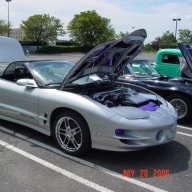 Joined

Jun 2, 2017
Posts

350
Reaction score

238
Location
Just wanted to tell everyone about my experience. Friday I took the Suburban to Autocross school at the Meadowlands (MetLife Stadium). Obviously I was a true oddball since most of the cars were meant or built for this type of driving. Surrounded by Miatas, BMWs, Vettes, and a few Stangs, stood tall the Suburban. I was one of a few people that never autocrossed before but most of the people at the school had only done a handful of events. It was definitely an experience.

The initial concerns from the instructors about this being a possible rollover issue quickly melted away once I started listing the mods and when I rolled through tech inspection. Overall it was a great experience and while I am sure a few people didn't take me seriously, I mostly got a lot of positivity. All the suspension mods I did paid off. Honestly it was the most fun I ever had in the truck.

I rode with an instructor the first heat and was able to drop my track times from 92 seconds the first run to about 71 the 6th. He was so impressed with the truck, that on the 2nd heat he had another instructor ride with me to feel the truck. On the second run, that instructor asked me to drive. WOW - talk about a driver mod. He really pushed the burb to near limits...to the point that he got so overconfident in its abilities he drove over 2 cones in the slalom. My best lap was a tick under 69 seconds. For comparisons sake, there was a Carerra GT running 49s. 20 seconds is a big gap in lap times but I guess I can't complain since the Porche was MADE for that type of driving and the Burb is definitely not.

Overall I plan on doing it again. Might take the TA next time until I can get some better tires or maybe a smaller wheel (20'S might be better with a better tire for AutoX).

What I learned:
Besides the obvious related to AutoX, I learned a big SUV with the right mods can do a lot of what a car can do. My truck is WAY more capable of what I thought I was doing on the street - I am instantly a better driver knowing I can push the truck's limits to avoid hazards or a potential accident if the need arises. I learned I'm a better driver than I thought I was, and I've improved over that from this experience.

I also learned I need a bigger trans cooler; lowering the front with drop spindles vs control arm/spring mods is not the best choice; 24s are NOT a great wheel size for any type of "athletic driving".

Lastly, I need to find a way to put a manual trans in this thing!

Overall, great experience. Tons of fun. Got all my adrenaline out on the track and kept it calm on the streets. I'd def recommend trying it to anyone that's an enthusiast. I'm sure a few of the member here do AutoX, but probably not in their big rigs. I'm sure I wasn't the first, probably won't be the last, but if anyone is interested in building an AutoX full size SUV, I def have some advice to give. Thanks for listening.