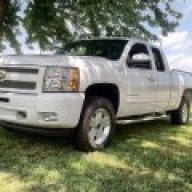 Joined

Dec 21, 2012
Posts

272
Reaction score

11
Location
Video is not done uploading yet but I will link before I go to bed for you guys to leave questions, comments and concerns. Should be finished by 2:00AM CST.
http://www.youtube.com/watch?v=ZIlRZM8xX-E&feature=youtu.be
Some points that are important in the video
* I had just narrowly missed getting nailed by a tornado 15 minutes before
* Camera and mount suck
* I am a newbie at this
Cool times to take note:
* 5:20 in video is the parking lot on the right is the one I was sitting in when the rotation came over me and dumped hail on my truck
* 6:20 Cool rainbow in light of a storm that has taken lives today
*11:20 One of many large tree limbs in the street around town.
*11:40 wipers acting weird. never done that before
*13:20 Getting on it to get to some good lightning. Sounds good.
*14:25 Looking at the sky. Whoops
*Notice how quickly weather changes after I hit the highway
*21:42 Wheel catching suspension under full lock
Enjoy!