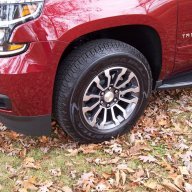 Joined

Jul 15, 2019
Posts

713
Reaction score

980
What I'm hearing is that in the pre 2021 motors the lifters are usually good for 80k miles, then it's a running on borrowed time thing. Just amazes (shocks) me that GM would put such crap in such an otherwise superb engine. This contraption:
This definition really spells it out:
con·trap·tion
/kənˈtrapSH(ə)n/
noun: contraption;
a machine or device that appears strange or unnecessarily complicated, and often badly made or unsafe.