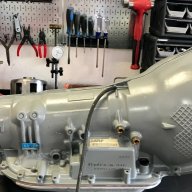 Transmissions
Supporting Member
Joined

Mar 9, 2023
Posts

522
Reaction score

1,172
Location
Hi

@NickTransmissions

, what an amazing answer, thank you very much for your time.

I also thought the same about the converter but I saw it open and it was fine, anyway I'm installing a reman. converter. All my suspicions are on the valve body and the EPC. In the new valve body I included all the Sonnax products I could find, especially the abuse valves famous for constant cross leaks.

The seals in the L/R piston were fine when removed, anyway I replaced this piston (fearing a metal crack that I couldn't see with the naked eye) and added new seals and springs.

So to recap I'm adding:

- Reman T. converter

- Full set of hard parts (without end play)

- Sonnax Smart Shell

- New steels and frictions + plates (stock)

- Reman VB

- New solenoids

- Tested pump with new valves from Sonnax

- New sprags

- New bushings (inc. sun gear wide bushing)

- Pressure switch manifold

- Release springs

- Pistons

- Case saver (1 million times easier to install than the famous anti-clunk spring)

- Seals and bearings

- Band

The only thing I didn't change is the input drum, but I cleaned it well and air tested the one I have. 3-4 clearance was set to 0.030 +/-.

I'm on my way to flush the lines and put the transmission back in the Tahoe.

Greetings from Colombia and Thanks for your help!
Nice, man. Sounds like you got it under control. I love the Sonnax smart shell, huge upgrade over stock and Sonnax parts wherever possible in all my builds. Their oversized AFL valve kit is also great for 4L60 and 4L80 VBs.
Lastly, did you pressure test the forward drum to check for leaks where the shaft is pressed into the drum? I see these leak bad about 20% of the time, mostly on 93-2000 units but occasionally '01+
ETA: Here's what im referring to:
Checking Fwd drum for leaks
Set your front end play to between .015-.025 (spec is .015-.035 but i feel it's too loose beyond .025).
Glad to see folks getting into these things and rebuilding them!
Last edited: