Joined

Feb 9, 2022
Posts

28
Reaction score

42
I just purchased a 2022 Chevy Tahoe RST in late March (ordered in January). I have had some life changes recently occur having to do with a house upgrade/purchase, and I may have to sell the Tahoe I just purchased. I would have to sell in late June or early July. Putting out some feelers as I know these are hard to come by at the moment. Would prefer to help someone on the board get one as opposed to listing for sale on Autotrader and Facebook. Here is what I have, and what I have done to it. Pic of window sticker is attached.
2022 Tahoe RST
Mileage: by the time I sell in late June or early July it will probably have 5k-6k miles on it
Engine: Diesel 3.0 (getting about 28 mpg on highway trips going 70-75mph, mixed use is about 22mpg)
Exterior: Black
Interior: Black leather
Luxury Pkg
2nd Row bucket seats
Max Trailering Pkg
Console mounted Safe
Heated Front and 2nd Row seats
Carpet and all-weather mats for front and 2nd rows
Options to be retrofitted later:
Heated Steering Wheel
Steering Column Lock
Front/Rear Park Assist
What I have done to it after purchasing:
Husky all weather mat for 3rd row
Husky cargo mat for rear (covers entire area with 3rd row folded down)
Installed LED bulbs in taillights for the turn signals and reverse lights
Tinted front passenger and driver windows to match rear
Tinted front blinkers along the front wheel wells (you can remove if not wanted)
Tinted rear taillights (you can remove if not wanted)
Installed aero skin on lead edge of hood to protect from stone chips
Replaced stock wheels with Black Rhino Kunene 22" wheels with +10 offset (I do not have the stock wheels)
Professional installed Belltech adjustable struts on front and rear to bring the height of the vehicle down approximately 2" front and back. I think this gives the car a much better stance and better handling. Also, it is easier to get in and out of. Slightly stiffer than stock suspension, but not much of a difference. I also have the stock struts if you want to return to stock ride and height.
Professionally ceramic coated by Ceramic Pro. Highest level of ceramic coating (Gold Package) with lifetime transferrable warranty; you can go to any Ceramic Pro franchise countrywide and have inspected annually to refresh the coating. Wheels and calipers are also ceramic coated to prevent brake dust from sticking to them.
MSRP was $67,970, and I have $5k+ in extras listed above.
Looking to sell for $68,000 with all extras included. If interested send a private message and I will keep you posted as this process progresses. Right now I am about 80% certain I will have to sell it.
I am located in Michigan BTW.
This is a tough decision as I absolutely love this vehicle. There is no better combination of space, utility, gas mileage out there in my opinion. However, having an opportunity to purchase my dream house overrides my need to keep this vehicle. Just really unfortunate timing.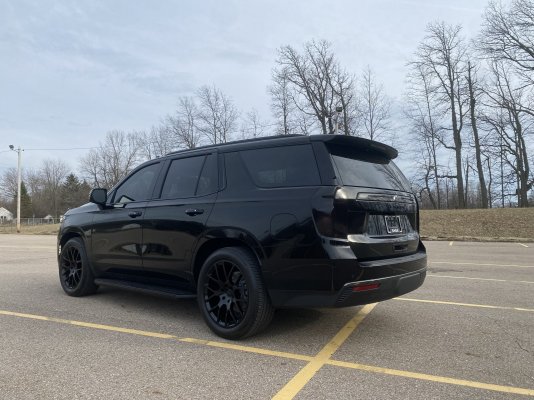 Last edited: