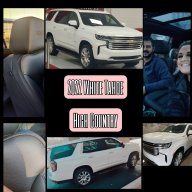 Joined

Mar 26, 2016
Posts

26
Reaction score

27
Quick sudo introduction/back story. We had originally owned a 2015ltz and sold it back in October (2021) to buy what my wife considered (at the time lol) her favorite vehicle a 2021 Jeep Rubicon. Well....after having it for a few months we quickly figured it out it's not the best family vehicle. We have two toddlers in the house and they were literally on top of each others laps. That combined with the reduced cargo space didn't make it family friendly. The safety features are also very subpar. Now...we knew it wasn't going to be Tahoe spacious, but thought we would adjust..wrong. We were lucky to sell it after putting 2k miles and only lost $100 lol. We just considered it a very cheap rental for a few months!
The search was on to find another Tahoe (which has now secured the place as her favorite vehicle again lol). Like many of you have found out most of the "in transits" where spoken for and we couldn't really special order because time wasn't really on our side. There were a few Z71s on the lots, but they were 5k-10k over MSRP. I already own a 2019 Trail Boss so there wasn't really a need to have another vehicle equipped as a Z71. The truck will do all of the towing/any off road adventures. After calling around for hours we finally found a dealer about 2 hours away that had this HighCountry that wasn't secured and was being sold at MSRP. We dropped a deposit (which they didn't even run on the CC btw) and then the wait was on. Because of the forums I learned of the JCT Pals Portal and started monitoring for change of status. It was held up at the Naval base of which is set for 2-3 weeks. On a side note if you have an Android phone, and a have a little "geek" in you. You can download an app call "Web Alert" and setup monitoring on your phone to watch for their search window to change. As an example I had it watching the "pending" word to change every 30 mins. I actually found out before the dealer when it left the lot lol. It was almost a month between the time we put down the deposit and it arrived at the dealer. I'm sure the holidays contributed to this....I jokingly asked the dealer if they would throw in all weather matts because of the how long it was taking and they did!
Recap:
-Tahoe is the ultimate family vehicle (sure you already know that haha)
-If you were like me refreshing that Pals side multiple times a day....just automate that!
-Don't be afraid to ask the dealer to throw in extras for free!
What's next:
-In our 2015ltz I had a 12' Memphis sub in a ported box...I want to add a sub back to this. I don't see many folks that have done this yet.....
-We are getting the front side windows tinted this week to match the back half
Here are a few pics to the ride
Wife had to put together a collage lol.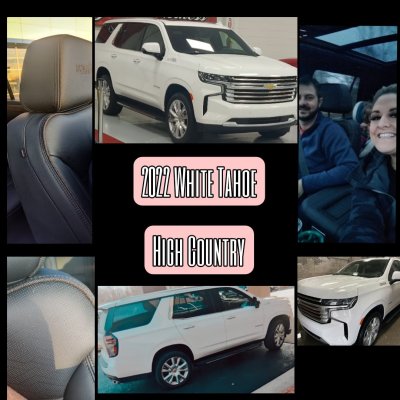 Garage shot lol