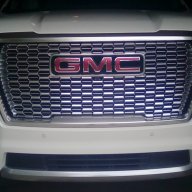 Joined

Jun 17, 2021
Posts

31
Reaction score

26
We can all speculate, but unless someone finds specs from GM that fess up to a different cam, heads, valves, rail pressure, or whatever for the Esky vs. the Denali, my money is that the motors are exactly the same. From what the OP says about running them side by side, I would be more inclined to believe there are different tunes for the transmission. Since shift points (up or down) are controlled by the Powertrain Control Modules (EMC/TCM/both?), the engineers control how the power "feels" in the vehicle.

Maybe Cadillac just calls for quicker shifts and more pressure on the clutches during full throttle acceleration. No more power from the 6.2, but seat of the pants would be a lot different. I've had HP tunes installed on vehicles in the past that made only a half second or so difference in the quarter, but for all around driveability, the difference was night and day. I recall the 6L80E in my G8 GT was a slushbox because the shifts were slow and soft. With a different tune, it was much snappier and safer to drive, because the shift points were quicker and the car responded much better. The transmission part of the tune alone was worth the cost.

There may eventually be tuners available that will make the Denali "feel' like the OP says the Esky does. I don't feel the need in mine, since it's a Dmax and I really can't find fault with the engine/transmission interface. It downshifts when I want, and seems to be firm enough to use the available power. For you 6.2 guys, the story may be different. Especially since not everyone's priorities are the same. Some want a smoother, softer shift and some want to chirp the tires when the next gear hits.