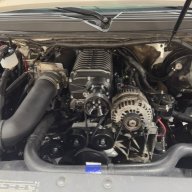 Joined

Aug 2, 2018
Posts

4,222
Reaction score

4,832
I can't see why you'd want to change anything. It looks perfect and I'm sure it drives great. I've never understood the going with shorter tires to lower more, it doesn't look right and rides worse. The overall diameter of the tire needs to be a certain size to look right in the wheel arch.

What wheels are those? They look great.
Wheels and tires are truly a personal choice. What looks perfect to us may not look perfect in the eyes of other folks. For me, I've put wider tires on every vehicle that I've owned (and my wife's to her annoyance) since 1969. Why, I don't know, except that I like the look better.