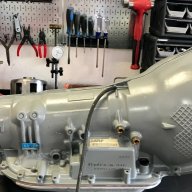 Transmissions
Supporting Member
Joined

Mar 9, 2023
Posts

526
Reaction score

1,185
Location
@NickTransmissions

would you happen to know of any way I can find out if a 2wd one of these trannys can be converted into a 4wd to bolt the T case on it? I've looked all over online and found nothing. I'd buy a manual if I could find one.

I keep seeing posts about 6L80s being quoted $7k to rebuild these days, there's a 2wd hybrid one local for 600$. I have no way of testing it, but he says it came from a running truck. feels like it can't hurt to have in a corner if I ever need it.
Unfortunately, I don't at the moment (not for 100% certain, anyway) but will be going to my transmission parts supplier this afternoon so will ask to see what 2ML70 stuff they have and level of effort to convert (though I suspect is just an extension housing assembly swap since the output shaft and rear gear train are all nested w/in that extension housing kinda like a Chrysler 42-48RE).
Will post back later this evening with what info Im able to gather and we can go from there.