Joined

Feb 16, 2023
Posts

6
Reaction score

14
Hello,
*As of 2.16.2023 is a work in progress. I will update post and photos as I complete.
This will be my second radio install, first was a 2001 suburban. I know there are lots of instructions out there, but I have not found anything that really detailed my plan. I am not going to get too specific about harnesses and removing seats, trims etc.. but happy to answer questions if I can.
I had installed a aftermarket Boss double din previously, and was not too worried about quality at the time, I really just wanted Bluetooth and a backup camera. But after install, I am really not happy with the sound and decided to go all in, as I have never installed a traditional amplifier, subwoofer setup.
The Truck:
Bose system with "luxury amplifier" (this matters because this amp has the programming for the door chimes.. I am just going to delete and not worry about it) The stock subwoofer is located under the front console for those who do not know, as well is the amplifier. Yes... it is a pain to remove and wish GM would have made that easier, but honestly if you have tools and some knowledge its really not that bad.. I had both seats and console out in like an hour.. (might take you longer if you have never removed seats before. Proper air tools are a must.
The Plan:
I want to keep stock look without any extras bouncing around the back taking up space. I still haul sheets of plywood and building materials often and don't want anything in the way. Pretty much why I bought this truck.
ADD
additional subwoofer in the rear left, (This is where the stock sub is on 2001, 2002 and maybe 2003?). Replace console subwoofer with aftermarket unit.
All seats and carpet removed and sound deadening added to whole vehicle. (I also pressure washed carpet while at it.)
I will be running a Skar Audio 4 channel 100 watt rms amp for the door speakers, and a 1,200 watt monoblock to power both subwoofers. I also will be setting up a dual battery system and hooking up a power inverter while I am at it.
Subwoofer Box for the Rear:
Note
The Tahoes and Yukons are different than the Suburbans and XL. You will need to go to a junk yard or Craigslist and find a 2001, 2002 (maybe 2003) Suburban or Yukon Xl. And take the stock box from that for the rear.
-The retro fit is fairly easy. Pickup a nut clip thingy at the hardware store for the top right bolt. That one lines up in stock position. The top left bolt I just ran a self-tapping screw through. Careful your fuel filler line! The bottom of box has little tabs, but the stock holes are not there. I carefully marked my spot and cut/snipped/pried a slot for it to fit. Again, watch out for fuel filler line! Add some padding/ sound deadener and drive it in.
This box fits a stock 8" subwoofer (with sligh mod.). I only found 1 or 2 options that would fit this. It is VERY shallow, 3" top mount depth. I purchased a
Kicker 48CWRT84.
Mounting depth 2.75". This leaves ¼" clearance behind the sub. You will need to modify mounting hole very slightly so that it will fit into recess. Like a 1/16" or less around the edge. I just traced it with a knife and took a little router with a straight bit and got it done. Easy peasy.
* "stock" mounting holes top right of rear sub box Slightly enlarged inset for new subwoofer.
Front (stock) subwoofer:
This one took a little more creativity. I purchased a 6.75" kicker shallow. Problem is that newer subwoofers tend to have a wide magnet/ base. This created clearance issues inside the mounting box. (see pictures)..So what I did was I took the outer mounting ring from my junkyard subwoofer. (made of durable cardboard stuff with foam ring). Cut it down to fit around the 6" sub and strapped it tight with a fatty zip tie and some speaker glue. This basically makes the subwoofer stick out further to eliminate clearance issues inside. Then just predrilled holes for screws wherever I could, and mounted the sucker in there tight. There was also a little hot glue involved (rear also, as I got a little off on my routing.) The stock box is ported, but the kicker called for sealed box, so I will fill the port with expanding foam. Hopefully it holds up over time, but its Great Stuff.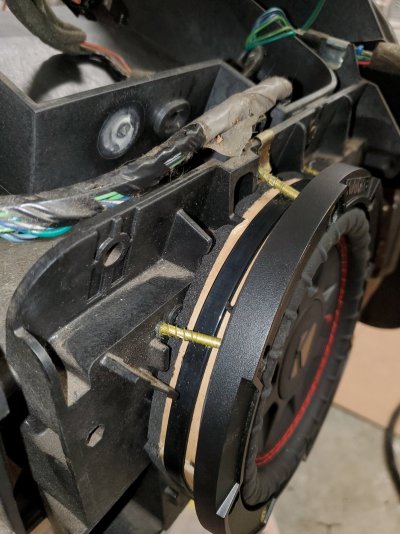 *Note the ring with zip tie. Still need to foam fill the port in this photo.
Front (door speakers) Amplifier:
I mounted the 4 channel amp in place of the stock amp. I bought a metra wire harness and wired up the amplifier outputs to it to make install easy. I did need to de-pin the Metra harness and rearrange the wires to make it work. This is easier than you think, so don't be intimidated. There was a great article somewhere how to do it. (how I learned to build harness for my 2001). I will see if I can find. I am not running new wires to door speakers, hopefully I don't regret that.) Look up a wire schematic online, its fairly straight forward… Though I am a little confused about D pillars as there is only 1 output for Right Rear… I will update if/ when I figure this out. The twiddlers I removed are showing 12 ohms resistance, so I think they are done for. Planning to replace these later. Already deep in project and want to finish what I have first..
For inputs I bought some 9 wire and soldered to the amplifier
High
inputs harnesses, and then ran directly to the head unit outputs. Blue amp signal wire goes to 4 channel and then will split off to rear amplifier. Same will be for the main power wire. Ground goes to seat bolt.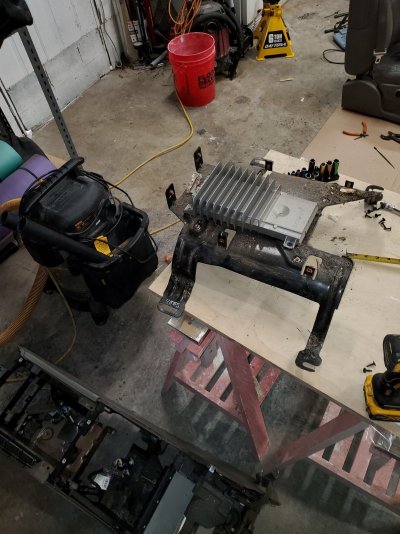 *Metra harness to amp Outputs 9 - wire to amp Inputs
Rear Amplifier:
I mounted a little sideways above the wheel well. Looks a little janky but its functional and no one will ever see it. Wiring is fairly straight forward. Power in, ground to chassis, blue signal wire in. rca cable for input, and speaker wire to front subwoofer, ohh and the subwoofer volume control remote. (I will probably route to inside console or something.
So lots of wires to the back. 4 ga. power, amp signal, RCA cables, 14 gauge wire to front, volume control to front.
Head Unit:
Not going to detail much here. I used the crutchfield harness and steering wheel adapter. Again, not too happy with this setup. The little convertor box thing seems to create lots of static. The gain had to be turned up to get any real volume, but then made everythig super static. Perhaps I needed to do something with harness at the amp, but it should have worked the same.. I think the amp just does not have enough power to rock my aftermarket speakers.. Also, did not get steering wheel control to function first time around. I thought you could program at steering wheel, but further reading it looks like i need access to device (behind head unit) to program. Was lazy and never tried. Hopefully I can fix now. SO for this install, I am keeping main part of harness, just going to cut in and wire speaker outputs directly.
Wiring Notes:
Deciding how you are going to hookup subs before ordering parts is very important to have proper impedance. The Skar 1,200 monoblock is a 1 ohm stable amplifier.
Both subwoofers are dual voice coil 4ohm. I wired in Parallel down to 1 ohm to match the impedance of the amplifier. There are many schematics online how to do this.
Also, I used only Oxygen Free Copper for all wiring to ensure best quality. Be aware when buying these all-in-1 amp kits online. Most of them are CCA (copper clad aluminum) and the manufacturers are tricky about displaying this. They are not rated to same current. ie. a 4 gauge CCA is rated for less current than a pure copper 4 ga. Crutchfield is a great resource for parts. They carry quality.
I ended up building my own kit, which really is not much. 4 gauge wire, rca hookups, fuses, connectors and amp signal wire. All can easily be purchased separate. See my parts list for more info.
Sound Deadening:
I used both 80 mil Butyl insulation and a foam 314 mil material. Installed wherever I could. Pretty much whole thing got the 80 mil Butyl, and then the foam wherever I could without creating clearance issues. ie. Wheel wells, foot padding, near firewall, rear seats area, etc.. I also took foam pipe insulation and shoved into the pillars to take up some of that void. I previously did inside the door panelsa couple years ago when I installed head unit and aftermarket speakers. If you want details let me know and I can try to look up specs. Front doors are JBL components and rear doors are Polk Audio 3 ways. Both quality speakers.
* Front area in progress.
Parts:
·
"specialty" tools needed
: hydraulic crimper for 4 gauge wires ($65 at horror frought) I highly recommend using this. At first I just crimped with some wire cutters, but the crimp tool is just so much superior.. Small router for trimming sub boxes, cutoff wheel. That's about it outside of usual stuff..drills, snips, strippers. Impact gun a must for seat bolts, they are all very tight. E sockets are needed for seats. I found a nice set at Home Depot.
1.
Front sub
: KICKER CompRT 6.75"(165mm) Subwoofer, DVC, 4-ohm, RoHS Compliant
Rear Sub: Kicker 48CWRT84
2.
Firewall Grommet:
QCQIANG 63Pcs Rubber Grommet Kit, Drill Hole Firewall Hole Plugs Wire Protection, 6 Sizes 5/8" 13/16" 7/8" 1" 1-3/16" 1-1/2"(Round)
3.
Power Distribution
2 Way Power Distribution Block, LAWUZA Connecting Block 0/2/4 Gauge in 4/8/10 Gauge Out Amp Gro
4.
9 Wire
: Conext Link MSC918-20 20 Feet 9 Conductors Blue Speed Wire Primary Wire Speaker Cable 18 AWG Gauge GA 100% OFC Copper Stranded Trailer
5.
Metra 70-2002 Radio Wiring Harness for Saturn 00-05
6.
Power Wire
: InstallGear 4 Gauge AWG OFC Pure Copper Power Ground Wire Cable (25ft Red) True Spec and Soft Touch Welding Wire, Battery Cable Wire, Automotive Wire, Car Audio Speaker Stereo, RV Trailer, Ampno Wiring
(I purchased 5-6 feet of black ground wire at local hardware store)
7.
Other:
OXYGEN FREE COPPER: 12 gauge speaker wire (for rear sub), 14 gauge speaker wire for front sub, RCA cable 20' for rear amp input. 16 gauge blue for amp signal wire. 100 amp fuses. (I used 3 for install. One at battery, one after D block, and one near rear amp.) Also will need 4 gauge battery cable ends, and shrink tubing (color coded preferred, my cable ends included some.)