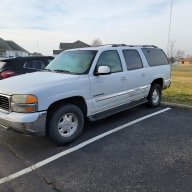 Joined

May 31, 2021
Posts

99
Reaction score

17
Hey Y'all.

My 04 Suburban is driving me nuts. I'm not sure where to go from here. Heres what's been done.

New rebuilt cluster, new Delphi fuel pump, used PCM matching numbers and from a truck with matching RPO codes.

I had a junkyard PCM I installed on Saturday, then we installed a new Delphi pump. Then went and filled the truck up. Gauge was reading dead empty. We hadn't changed wiring, but upon research the PCM was from a VIN T GAS truck, which the pump connector is different so the fuel level wires must have been opposite. Because as we were driving, the fuel level would go like it was using fuel normally.

I installed my original PCM again and it wouldn't read past half. When I know my fuel level was 3/4 tank. I had suspicion that the PCM might have been bad on that circuit. So I hunted down a PCM from a VIN Z Flex truck with matching rpo codes as mine.

Installed it yesterday, did the security relearn and it runs, but the gauge will still not read over half. I'm just completely lost right now. I have 19 plus gallons in my 31 gallon tank, and should be 3/4 tank or close to it. It's driving me nuts because I know it has to be something so simple.

Where do I go from here? Nothing was obstructing the level in the tank. I know according to my diagrams that the fuel level sensor goes from the pump to C152, then to the PCM. PCM connectors are good. I have not gone and put more fuel in it to see if it'll move up past half. But it's just strange to me that it refuses to move any higher than half.

Sorry if I've discussed this before. I know my other threads were a bit different. We have to be close to finding our what the true issue is.