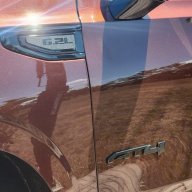 Joined

Mar 26, 2022
Posts

760
Reaction score

1,058
Location
Just realized that I past the 1yr mark with a delivery date of 4.11.2022 so I figured I'd share a bit of my experience(s) thus far (in no particular order):
2022 Redwood Metallic Yukon XL AT4 6.2
STILL love the Redwood Metallic color. Bought it sight unseen was was not disappointed. Love the way the color pops in the sun.
DO NOT care for the fact that it can not be tuned unless a $3k invoice to Trifecta is paid to unlock it. Nice to se that there is a whipple offered, so that might be in my future. As coming from tuned past vehicles its in my nature to not stay stock.
We have taken many out of state trips from FL to GA and have not had any issues with the ride/comfort level.
Love that the rear seats fold down to open up ALOT of extra space when needed. Perfect for when me and my son goto the BMX track with both of our bikes or I have to pickup some furniture items for my wifes side-gig.
Only issue thus far that I can think of is one time I used that remote start (like I have done since day 1) and upon pressing the engine button, it shut the AT4 off until I removed the negative cable for a few moments.
Wish it would stat in Sport and L9 mode by default
Still awaiting my retro fit items:
Heated steering wheel:
was just informed via GMC chat that this retrofit item is now available for me, will be installed on my next oil change; VERY soon
Backup sensors
Steering wheel lock
All in all for such a heavy SUV with the 6.2...im "happy". Do I miss the power from the past vehicles in my signature...YEP. but if/when the time comes, Whipple is there for me.
Things that I have done thus far:
GMC performance pedals
S&B Cold Air Intake
Corsa Exhaust
Auto start delete
Tinted front driver/passenger windows to match the rest...should have come stock like this
Designed / 3d printed arm rest cell phone charger
Designed / 3d printed key fob holder
Designed / 3d printed rubberized knobs for Radio/temp/light/drive mode
Designed / Laser cut/etched fender insert plates
Vinyl cut Oracal material for front and read GMC emblems
Vinyl cut Oracal 3rd brake light to show AT4 when braking
Added a few white vinyl stickers to the rear glass to make it my own
Blacked out all other Yukon / AT4 emblems
Hard wired Valentine V1
Added front/rear cameras hardwired to fuse box
Lund / GMC Matte black window rain guards
Check signature for most of all the custom items I make and/or my YoutTube channel.....hit that like and subscribe button....get me PASSIVE income!!!
Whats next?
3" lift
Would like to get either matte black snowflake rims or something different when time comes to replace tires.
Every vehicle going back to late 90's ive always had a custom audio setup...so this is for certain on my list. Son wants me to build a 4 15" wall...but that is not practice for MY usage LOL.
Would I buy it again, yes. It checks all my/family boxes.
Last edited: