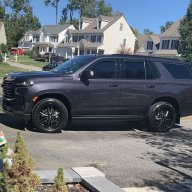 Joined

Dec 22, 2021
Posts

220
Reaction score

233
First impression, the truck is better than I imagined. Specifically the color, pictures really don't do it justice. It has a blue tint, but is not really visible in any light I've seen it in so far.
Interior is better than I hoped. The bronze accents and fake wood trim is much less obnoxious that I thought they would be. I would still have preferred the RST interior, but it's still pretty impressive.
The feature all work as expected. For the HUD will only show turn by turn in apple CarPlay in Apple Maps or when not in Car Play when using google maps. Strangely enough, google maps thru car play (as well as Waze) will not show turn by turn in the HUD.
They have removed turn by turn directions option on the digital display (behind the steering wheel) on the info screen. No clue why, there's no option to add navigation there now.
The speed limit sign now requires the data plan to function. You get 3 months for free, after that, supposedly it's no going to work.
The rear lift gate is slow and loud.
The power steps work flawlessly, and auto lighting on them on entry and leave were a surprise.
The rear view mirror camera was a pleasant surprise! Better than the mirror.
The 360 degree camera angles are great. It automatically shows from or read depending on the direction you are going. But it seems to be missing the "blind spot" mirror in the sides that my old vehicle has.
The power folder side mirrors are pretty cool, but I wish I haven't figured out if I can automatically fold them on locking the vehicle.
Google assistant is nice when searching for gas stations, parking lots or getting directions to somewhere without typing.
First mod this week will be window tint. I'm going 20% in the front sides and limo blackout in the back sides and rear. Also going to add a 50% gradient visor on the windshield.
Also have my appointment for the week after next to apply the PPV, ceramic coat and blackout on most trim.
The week after that will be the new black wheels.