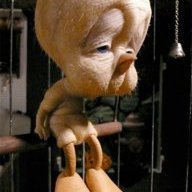 Joined

Jan 23, 2019
Posts

1,100
Reaction score

2,464
I picked up a cheap truck a while back. It came from north of here so it's rusty. The frame and cab mounts are good. There are a couple of frame splices that are rusty but they should still be plenty strong for what I want to do. Normally, my vehicles will suggest a name after a while but this one got named while it was still on the trailer. "Rubigo". Basically Latin for rust.
Evidently previous owners just drove it and put gas in it. 96K on the clock but they were HARD miles. I out new shocks on the rear the other day to replace the factory original shocks. While I had them off, I spray bombed the wheels black. I usually paint my wheels black as that doesn't show brake dust. Here's a shot showing the difference between stock and painted wheels.
I don't plan to do anything to the body except replace the door hinge pins and the tailgate straps as the hinges are worn out and the straps are off a bigger truck. Folks around here drive terrible ans cut off nice cars in traffic. With body panels that flap in the wind, they won't cut this off.
My rear shocks had the outer tubes rusted away and the front ones had rusted solid and broke the bottom tabs off.