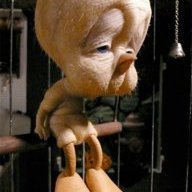 Joined

Jan 23, 2019
Posts

491
Reaction score

800
I've got a 1990 Ford F150 with starting issues. It acts like it wants to start, but won't quite. To help you help me, I'll run down what the truck is and what I've done to it.

It started running rough so the previous owner got rid of it. He said it started running rogh after he replaced the valve cover gaskets. The intake plenum has to be removed to do this. While he was at it, he broke a bunch of vacuum lines, which he repaired.

It kept running worse and worse once I got it and I heard a LOT of noise out of the timing chain area. I tore it down and replaced the timing chain first thing. It had a lot of slop so a new chain went in. The water pump looked iffy so a new one went on, just so I wouldn't have to do it later. The alternator tested out bad so a new one of those went on. I had pulled the distributor out to work on the front of the engine. New cap and rotor went on.

When I wired it, it wouldn't hit a lick. It turned out the engine was a 1994 or later engine which has a different firing order. Wired the plugs for a '94 and it started and ran. Not very well but it ran. The shaft had some wobble so I replaced the distributor too. It ran the about the same but had less mechanical rattles.

A fuel pressure check showed it would pressure up, but drop off fast. Great, bad fuel pump. Replaced the pump and it now gets and holds pressure like it should. I suspect the pump was the original start of the problems.

While running, it has massive fuel consumption. You could almost see the gauge dropping. Pulled the plenum again and checked the injectors. They were shot. Some wouldn't work at all, some worked fairly well and some would stick open. New set of flow matched injectors went in. The pressure regulator is working fine so it's not replaced.

I had replaced the plugs before I found the injector problem with Autolite plugs. I believe #25. (Not sure and don't care) I figured they may be like Champions and work fine until they get flooded. Replaced those with NGK Copper Plus plugs. Autozone said to gap them at .54 inches. The engine will crank and act like it wants to start, but just can't quite get going. Looking in an old Haynes manual, it says to gap plugs at .44 inches. I'll be doing that as soon as I get momma's rider mower back together after belt replacement.

I rotated the engine so the timing mark is lined up with the indicator tab. The distributor is dead nuts on #1 cylinder. The battery is fully charged. The coil was bench tested and is good. Fuel pressure is good. It is a later, 1994 or later, engine in a 1990 truck.

Does anybody have any ideas if regapping the plugs doesn't help?